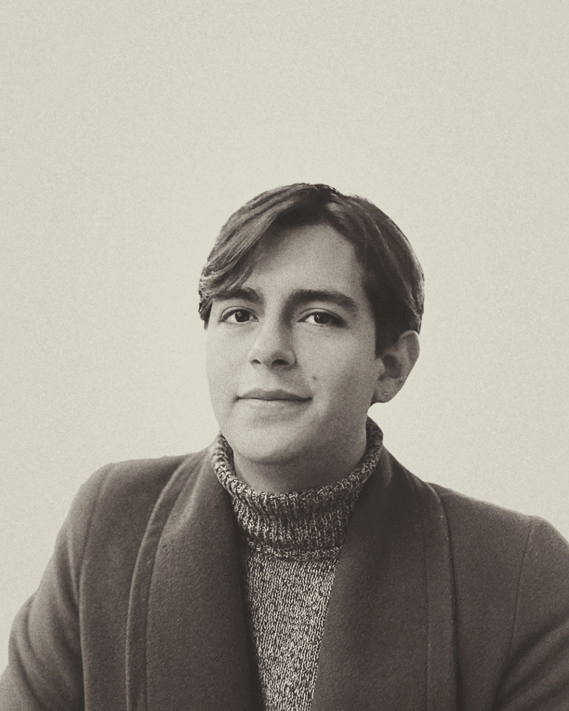 Juan David Muñoz is a Colombian Art Director & Creative Consultant. His portfolio is pictured and portrayed with positivity, color, elegance, personal experiences, character, minimalism and a graphic sensibility.
Touching on these inspirations, Juan embraces playfulness in his work and believes creativity should be uplifting and inclusive.

JD is a graduate of Universidad de Bogotá Jorge Tadeo Lozano with a double BFA in Graphic Design and Advertising. Applying his singular aesthetic to fashion, beauty and space assignments, he has worked for brands such as Mercedes-Benz, AVON, Axe, Aspirin, Discovery-Channel & Chivas Regal.
He has also lent his energy and optimism to a diverse range of commercial campaigns, UX/UI and personal design projects.Juan has led ATL and digital design projects from concept to execution with worldwide and local brands and firmly believes in Design Thinking, Team Work, Visual Investigation and Brainstorming as the best ways to achieve a solid communication construction of a project.
In order to create community and share different voices, Juan created The Visual Hunting which works both as a creativity studio and a cool hunting blog, capturing visual and creative inspiration from all over the world which you can follow on Instagram by the way @thevisualhunting.
His work has been featured at Domestika, Taschen and Centro Cultural Gabriel García Marquez
Feel free to reach out to info@thevisualhunting.com
My name is Juan David, everyone calls me Juanda, but you can just call me here +34 607 259 524

CAPABILITIES
Branding & Visual Identity
Art Direction
UX UI Design
Photography
Brand Consultation
Copywriting
Content Creation
Editorial Design
Fashion
PRESS & AWARDS
• 021 ELISAVAWinner Gran Premio Elisava: Full Master Scolarship
• 020 DOMESTIKAGrand Prix Portfolio Domestika Talento Joven Colombia 2020
• 020 TASCHEN & DOMESTIKABranding Winner categoryFeatured in Best of Photography category
• 017 BOGOSHORTS EXHIBITBogoshorts: "Bogota sabe a cine" Exhibit. Centro Cultural Gabriel Garcia Marquez.
EDUCATION
• 021 - 022 ELISAVA ESCOLA UNIVERSITARIA DE DISSENY I ENGINYERIA DE BARCELONA / BCN, ESPAÑAMaster in Art Direction
• 017UTADEO / BOG, COLOMBIABFA Graphic DesignBFA Advertising
EXPERIENCE
• March 2021 -PresentOMNI.PRO Senior Product Designer UX / UI
• September 2019- September 2020UPP APPBrand consultant & Designer
• January 2020 - March 2021Crystal S.A.S: Gef & Punto BlancoDesign leader
• September 2019Congreso de Diseno 4GNJessica Walsh personal Assistant
• December 2016 - June 2019Sancho BBDO WorldwideSenior Art Director
• July 2016 - December 2016Mullen LOWE SSP3Junior Art Director
• January 2016 - July 2016UTADEO InHouseDesigner
• February 2016Juan Moore PhotographerPhotography assistant